BACK
Miami is a paradise for foodies who love to eat in front of beautiful scenery. The warm weather and beautiful scenery make Miami the perfect city to enjoy a meal overlooking the water. When it comes to dining with a view, Miami knows exactly how to do it. From upscale steakhouses to casual seafood restaurants, Miami has many great restaurants with water views.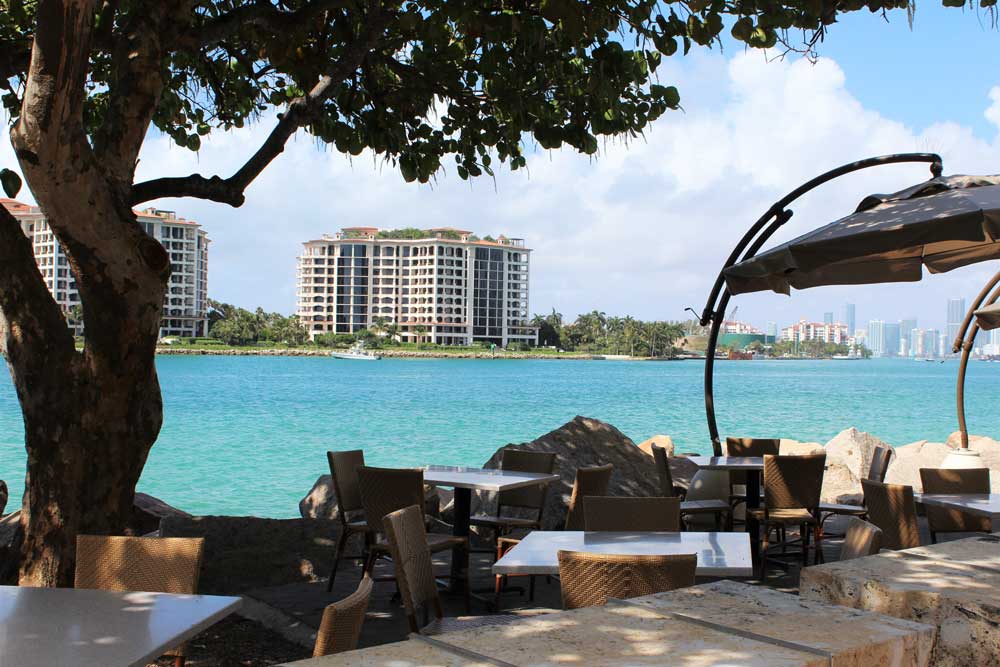 Here are eight of the best.
1. Seaspice Brasserie & Lounge
The ambiance at Seaspice Brasserie & Lounge is unforgettable. As soon as you enter the restaurant, you're transported to a whole other world. Everything about the restaurant exudes elegance and luxury, from the refined décor to the expertly prepared seafood cuisine. Whether you're enjoying a casual meal with friends or a special evening with someone special, Seaspice Brasserie & Lounge will leave a lasting impression.
Seaspice Brasserie and Lounge, located on the banks of the Miami River, is the epitome of a waterfront restaurant. To get a seat at this exclusive restaurant, you'll have to put in a little effort and make a reservation by phone before you head out. Or you can just go and hope for the best!
But be warned, this place is so popular that it's practically impossible to get a table without a reservation. So if you want to enjoy a meal overlooking the river, plan ahead and call!
2. Smith & Wollensky
​Smith and Wollensky is a USDA Prime dry-aged steak, premium seafood and award-winning wine list in America's Steakhouse in Miami Beach. This restaurant serves some of the juiciest steaks you'll ever taste. It's accompanied by fresh seafood and an impressive selection of wines from around the world. Dining here's truly an unforgettable experience.
The breathtaking Miami skyline and the calm, clear waters of the nearby Government Cut shipping channel provide the perfect backdrop for the sprawling restaurant. With an outdoor terrace and oceanfront bar, two floors of restaurant seating, and an upstairs Overlook Deck with bar, lounge, and tables overlooking the water, this is the perfect place to relax and enjoy.
The restaurant is in a fantastic location in South Pointe Park at the southernmost tip of South Beach. Whether you come for the incredible view or the delicious menu, you won't be disappointed.
3. The Lido Bayside Grill
Lido Bayside Grill is a seafood restaurant that focuses on the seasonal products of the region. Citrus and fermentation are woven into the menu, which includes chilled dishes, fried options and expertly grilled offerings. The restaurant offers a unique culinary experience perfect for seafood lovers.
​Lido's vision is simply stunning, with its focus on coastal cuisine and use of locally sourced ingredients. Of particular note is the seafood, whose catch is reduced to improve sustainability. Even the morning coffee is roasted and sourced in Miami! Not to mention that Lido also offers vegan, vegetarian and gluten-free options to meet all dietary needs.
The Lido Bayside Grill is a waterfront restaurant located in the Standard Hotel in Miami Beach. With its breathtaking view of the water, it's the perfect place to enjoy a delicious meal and refreshing drinks.
4. Tigre Miami
The Tigre Miami is located in a manatee sanctuary, just steps from Biscayne Boulevard. The Tigre combines the serenity of river life with modern Argentine cuisine. Tigre is a restaurant and bar inspired by the traditional cafes, parrillas and bistros of Buenos Aires, as well as American cuisine and Miami's iconic blend of cultural influences. When you enjoy the modern Argentine cuisine, you'll feel transported to Buenos Aires – without ever leaving Miami.
Tigre Miami is located on the banks of the Little River Canal. The sounds of Biscayne Boulevard and the 79th Street Causeway form the soundtrack of this urban oasis.
5. Rusty Pelican
At Rusty Pelican, you can enjoy the taste of Miami with the freshest seafood in the region. Known as a hip destination for locals, celebrities and tourists alike, Rusty Pelican offers eclectic and impressive modern American cuisine.
The Rusty Pelican Board for Two, Crispy Whole Local Snapper, Butter Poached Lobster Roll, Deco Maki Sushi and more are perfect for any taste. Monday through Thursday, there's a happy hour from 4:00 p.m. to 6:30 p.m. with specials on food and drinks.
Located in Rickenbacker Marina, nestled among yachts and luxury boats, the Rusty Pelican is the perfect place to enjoy a sunset cocktail or an intimate dinner.
6. Santorini by Georgios
Santorini by Georgios is an authentic Greek restaurant and beach club that offers something truly unique: fresh Mediterranean cuisine that incorporates Greek culture. It's a place with its own unique character that prides itself on offering true freshness and specializes in the largest shrimp, lobster caught fresh daily, lamb chops and prime steaks.
Set against the backdrop of the beautiful sandy beach and palm trees, Santorini offers the perfect romantic setting. With direct beach access and a stunning pool, it's no wonder Santorini is one of the most popular spots in South Beach. But it's not just the location that makes Santorini so special – the restaurant works with local fishermen and imports only the best, authentic Greek produce.
7. Zuma Miami
Zuma Miami is a chic, contemporary Japanese restaurant overlooking Biscayne Bay in downtown Miami. The menu features an array of traditional Japanese dishes and sushi, as well as a selection of creative modern cuisine. Whether you're looking for an intimate dining experience or a night out with friends, Zuma Miami is the perfect spot.
Zuma brings Chef Rainer Becker's internationally acclaimed style of modern Japanese izakaya cuisine from his world-famous Robata Grill and Kitchen to the United States for the first time. Located directly in front of Icon Residences by SS Vacation Rentals, this new hotspot will be a hit with foodies and pleasure seekers alike.
8. Kiki on the River
Kiki on the River is a boho-style Greek restaurant on the riverfront in Downtown Miami that offers modern Greek cuisine and an authentic Mediterranean-inspired atmosphere. The dock offers plenty of space to enjoy the riverfront views. While you enjoy your meal, you can't help but admire the stunning scenery.
Kiki on the River was built on the site of one of Miami's original fish markets. It's known for its carefully crafted elegance that only a windswept waterfront garden can provide. It's the perfect place for a romantic evening or special celebration.
These 8 Waterfront Restaurants Will Never Let You Down
So those are the 8 best restaurants in Miami with a water view. All of these restaurants have something unique and special to offer, so it all depends on what you want from a restaurant visit. If you're looking for a fine dining experience or a casual meal with a beautiful view, you should try at least one of the eight restaurants on this list. No matter what you want, you're sure to find the perfect Miami restaurant with a water view.
Whether you're in town for pleasure or business, there's bound to be a waterfront restaurant that suits you. Are you ready to give it a try? Book your stay at Kaskades Hotel South Beach today!