BACK
Miami Beach is one of the most beautiful and inviting beach destinations in the world. With its endless white sand beaches, turquoise waters and perfect weather, Miami Beach is the best place to find your perfect beach.
But one of Miami's most famous landmarks is South Beach. Just over two miles north of South Pointe Park stretches a beautiful white sand beach punctuated by colorful lifeguards and lined by the stunning cityscape of Ocean Drive with its Art Deco architecture and sidewalk restaurants.
Plus, South Beach has some of the best restaurants, hotels, and nightlife in the world. Whether you're looking for the perfect beach to relax on or the perfect beach to party on, Miami Beach is the place for you.
Enjoy the Beach Like a Local
When it comes to enjoying the beach, South Beach is the place to be. And like most visitors, you've come to South Beach to relax, swim in the crystal clear ocean and sunbathe on our beautiful beaches.
But if you want to enjoy the beach like a local, there are a few things to keep in mind. Get there early to avoid the crowds. Pack your lunch and snacks so you can enjoy a picnic on the sand. And last but not least, don't forget to bring your sunscreen, a good book, and sunglasses!
Also look for the warning flags on our famous lifeguard shacks. They tell you what the conditions are like in the water. Red flags mean there are dangerous currents and you should stay out of the water.
With so many people flocking to South Beach to experience our world-class beaches, it can sometimes feel like a festival with everyone dressed in their best. And as with any outdoor festival, be sure to bring noise-canceling headphones so you can enjoy your beach experience in peace.
Kaskades Hotel South Beach – Exclusive Amenities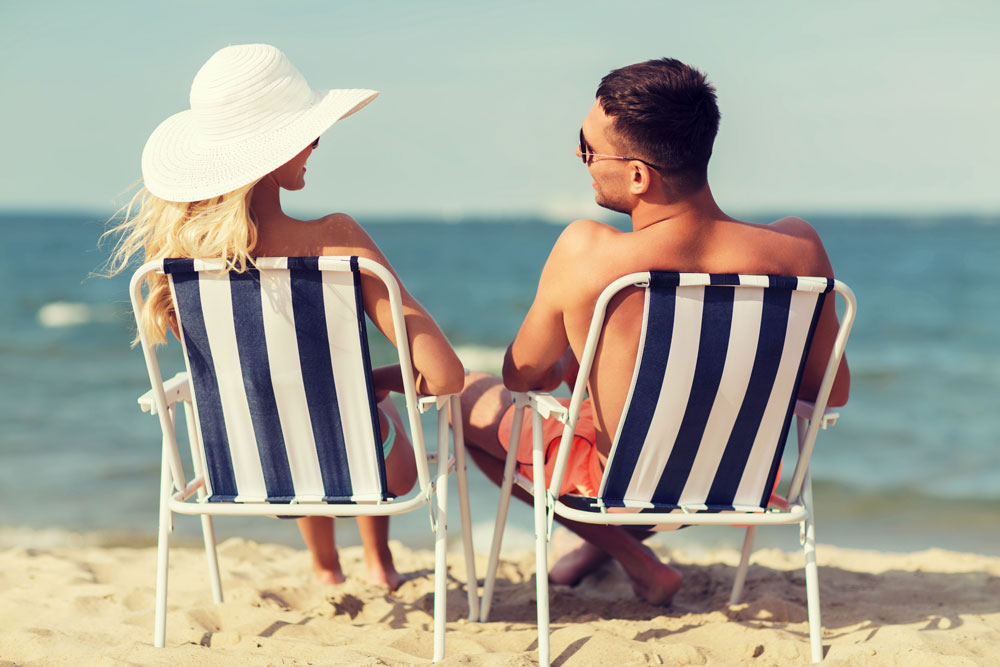 If you want to spend a day in luxury on one of the best beaches in the world, all you've to do is stop by our lobby. We've everything you need to make your day unforgettable. Just 2 blocks away you can enjoy the sun and sand like never before.
Before you go to the beach, remember to pack everything you need for sunbathing and swimming in the sea. Our guests can enjoy exclusive amenities such as beach chairs and towels, bike rentals and lunch.
How to Get to the Beach from Kaskades?
There's no better comfort in Miami Beach than staying in a chic boutique hotel that's less than a 5 minute walk from one of the best beaches in the area, the 17th St Lifeguard Tower. Kaskades Hotel South Beach is in a prime location, just two blocks (0.2 miles) from the spectacular white sand beaches of South Beach.
To get from the Kaskades hotel to the beach, all you've to do is walk down 17th St. and you'll be there in just 4 minutes. Don't forget to stop by the lobby to pick up your towels and beach chairs.
Activities and Sports on the Beach
The white sand and clear blue waters are perfect for relaxing and sunbathing. But for the more adventurous among you, there are plenty of beach sports to keep you busy. From jet skiing and parasailing to windsurfing and kiteboarding, there are plenty of ways to enjoy the water.
The year-round warm climate and beautiful scenery make it a perfect destination for swimming and surfing. There are also a number of places to play beach volleyball. And for those who want to take it a little easier, there's nothing better than a leisurely stroll along the shoreline.
Whether you're looking for a relaxing vacation or an action-packed one, you'll find the perfect beach in Miami Beach.
Simply the Best!
So there you've it – everything you need to know about why Miami Beach is the best place to find your perfect beach. From the wide selection of beaches to the sunny weather, there's something for everyone in Miami Beach. So what're you waiting for? Start planning your trip with Kaskades Hotel South Beach today!