BACK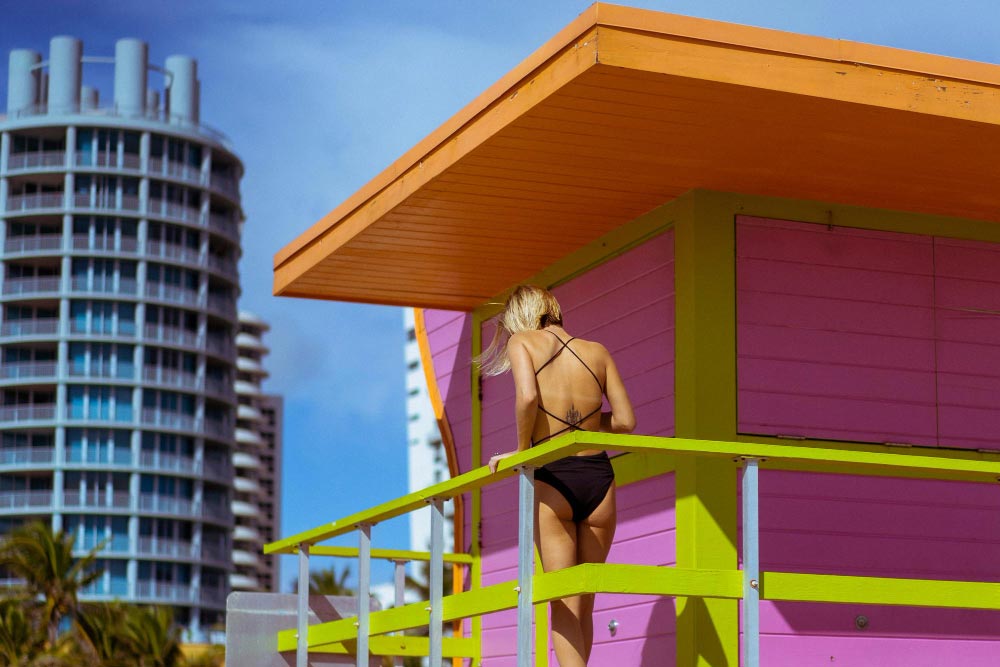 Whether you're traveling to Miami Beach on vacation or visiting the Miami Beach Convention Center, you'll find plenty of terrific things to enjoy during your stay. Stay in luxury just a short stroll from the sandy beach and within easy reach of local attractions when you check into Kaskades Hotel South Beach. These are the top things to do nearby:
Relaxing on the Beach in South Beach
Just a 4-minute walk from Kaskades Hotel South Beach, the dazzling white sands and clear waters of South Beach offer pure relaxation and plenty of adventure.
Soak up the ocean vistas, complemented by the amazing views of Ocean Drive, stroll along the sands, bask in the sunshine and take a dip in the refreshing waters. Looking for more action? Join a game of beach volleyball, hit the waves on a jet ski, try kitesurfing and admire the views from above with a spot of parasailing.
Enjoy the Museum of Illusions
Museum of Illusions Miami offers plenty of fun for all ages. The interactive museum is filled with striking 3-D art and cool optical effects. Step into an array of quirky scenes and snap lots of amazing photographs while having fun. The museum's Smash It! Attraction, where you can decorate and toss plates, is a terrific stress-buster, too.
Just a 5-minute walk from Kaskades Hotel South Beach, you can enjoy an interactive experience at the Museum of Illusions. With its prime location on Lincoln Road Mall, the museum is a must-see whether you're on vacation or attending an event at the Miami Beach Convention Center.
Smell the Flowers
Escape the crowds and take a walk through gorgeous tropical flora at Miami Beach Botanical Garden. Peaceful and attractive, the diverse gardens offer a feast for the senses. Tinkling water features and the soothing sounds of nature provide the perfect soundtrack for your visit.
Relax alongside the koi or turtle ponds, admire the great lawn, discover consumable plants in the edible garden, be transported to faraway lands in the Japanese garden, inhale rich aromas and marvel at plants of all colors, shapes and sizes.
Lincoln Road Mall: A Top Spot for Shopping, Dining and Fun
At Lincoln Road Mall, you'll find everything from luxury brands to cozy cafes. It's the perfect place to spend a day shopping, eating and exploring. There's something new to discover around every corner.
As you walk through Lincoln Road Mall, you'll feel like you've stepped back in time thanks to Morris Lapidus' stunning Art Deco architecture. Not only can you admire the beautiful sculptures and native plants, but you can also do a little people-watching.
This mall is the perfect place to discover the latest trends and grab a bite to eat. There are so many fantastic restaurants to choose from, you're sure to find something to your liking. Whether you're looking for a new outfit or a good meal, you'll find everything you need on Lincoln Road.
Stroll Along Ocean Drive
Popular with locals and visitors alike, the pedestrian-only Ocean Drive is lined with striking art deco buildings and offers plenty of fun for all. Enjoy the ocean views and watch everyday life as you pause for refreshments in an open-air café. Savor delicious cuisine in an array of restaurants. Dress to impress and check out the late-night party scene, with bars and clubs aplenty.
Explore Miami Beach Architectural District
Much of the eye-catching architecture dates back to the 1920s and 30s, with almost 1,000 local buildings entered on the Register of Historic Places. You might have a feeling of deja vu; some properties have featured in movies and TV shows. For example, the Sunray Apartments featured in Scarface and the Carlyle Hotel featured in The Birdcage.
Highlights include Gianni Versace's former home of Casa Casuarina, the Colony Hotel, the Breakwater Hotel, Park Central Hotel and Haddon Hall. Essex House, Miami Beach Main Post Office, Crescent Hotel, Waldorf Towers Hotel, Victor Hotel and Bentley Hotel South Beach are other notable buildings in the district.
Española Way: A Bohemian Artists' Enclave with Mediterranean Flair
Española Way is a historic alley in the heart of Miami Beach's Art Deco District. Lined with Mediterranean-style buildings housing cafes, restaurants and stores, the picturesque street is a popular pedestrian thoroughfare.
In the early twentieth century, Española Way was the center of Miami Beach's artist colony. Today, the street retains its historic Mediterranean feel and is a popular destination for locals and tourists alike.
The Bass – An Interesting Art Museum in Collins Park
The Bass, Miami Beach's contemporary art museum, is a must-see for art lovers. With its cutting-edge exhibitions and lively atmosphere, it's no wonder The Bass is one of the city's most visited museums.
The Bass is a world-renowned cultural institution that's promoted an understanding and appreciation of contemporary art since its beginnings in 1964. Known for hosting exhibitions that stimulate and captivate audiences, The Bass occupies a key position in the Miami Beach art scene.
Even More Great Things To Do at Miami Beach
Miami Beach has a wealth of attractions to suit many tastes, including:
Holocaust Memorial – a moving historical tribute
Lummus Park – a stretching park with play areas, beach access, walking trails and picnic areas
Jewish Museum of Florida FIU – a museum dedicated to Jewish life throughout Florida and Latin America, housed in an old synagogue
South Pointe Park Lighthouse – an iconic photo stop
Enjoy with us the best things to do in Miami Beach
Perfect your swing at a nearby golf course, explore the Venetian Islands, enjoy leisurely boat trips and more! It's easy to discover the best of Miami Beach when you stay at the conveniently located Kaskades Hotel South Beach.