BACK
South Beach is one of the most famous neighborhoods in Miami and it's a destination that people like to flock to.
In 2021, there were about 118 million domestic tourists visited Florida, making it one of the most popular vacation destinations in the United States.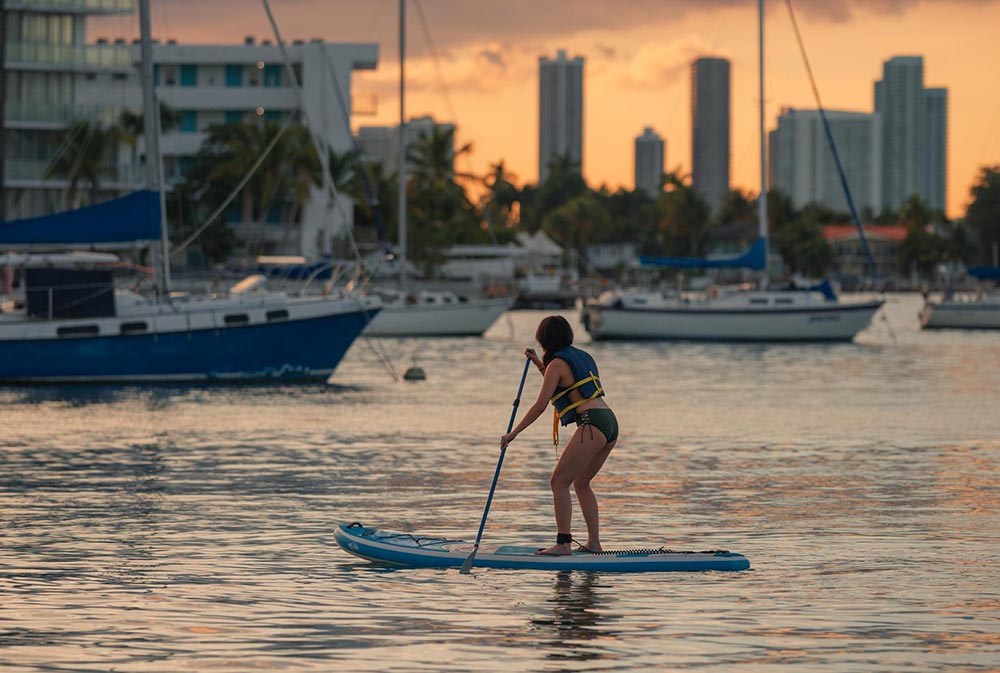 If you're planning a trip to Miami, you're likely going to want to spend some time in South Beach. What should you do there? What are the best things to do?
These are ten of our suggestions.
1. Experience the Nightclubs
If there's one thing that South Beach is known for, it's nightlife. In Miami, there's no shortage of nightclubs options for you to enjoy.
This is especially true once you get to South Beach. Go club hopping and experience all this neighborhood has to offer in nightlife.
Some of the best clubs in South Beach are STORY, Mynt Lounge, LIV Nightclub, MR JONES, and more.
2. Go to the Beach
The neighborhood has beach in its name after all, so why not enjoy it? Don't overthink this neighborhood. By that we mean, remember that the area has some of the most beautiful beaches in the country.
Whether you want to get your tan on, go surfing, swim in the ocean, or play in the sand, there's something for you to enjoy by going to the beach.
3. Explore the Art Deco District
While Miami is more known for its beaches and its nightlife, it does offer some cultural experiences for you to enjoy. One notable thing in this category for South Beach is the Art Deco Historic District.
The buildings that you'll see walking around this area were built nearly a century ago. You can find free walking tours of the Art Deco if you want to find out more information about the significance of everything in this Historical District.
If you've been here before, feel free to come again! There are exhibitions here that rotate monthly.
4. Enjoy Water Activities
Because there's a beach in this neighborhood, you can take advantage of all of the water activities that are available around South Beach.
Are you feeling adventurous? Try your luck on parasailing or renting jet skis.
Do you want to get a better look at the ocean? Go diving or snorkeling.
How about just wanting to go out into the open sea? Book a cruise in the waters of South Beach or charter a boat to go fishing for a day.
The possibilities here are endless for you.
5. The Bass Museum of Art
Finally, if you're looking to get a museum visit during your vacation, The Bass is your best option in South Beach.
It has over 2,000 pieces of art and every experience can be a new one. That's because there are exhibitions that rotate here every few months.
6. South Pointe Park Pier
If you're in South Beach, be sure to visit the South Pointe Park Pier. The pier is located at the southernmost point of Miami Beach and is a great place to people watch.
This beautiful urban park offers its visitors a fantastic view of the passing cruise ships, as well as beautiful sunny days and cool ocean breezes.
The pier is also a great place to take photos, as the view of the city skyline and the ocean is breathtaking.
The pier is a great spot for fishing, with plenty of space to cast your line and plenty of fish to catch.
7. Go Shopping on Lincoln Road
Lincoln Road Mall is a true fashion mecca boasting iconic stores like Lacoste, ZARA, Gap, Original Penguin, Anthropologie, Victoria's Secret, Forever 21 and NIKE. Whether you're looking for the latest trends or classic clothing, you'll find it all on this street.
South Florida's most popular people-watching destination is Lincoln Road. With the endless Florida sun and plenty of outdoor seating at restaurants and cafes, it's the perfect place to watch the action from the front row.
Located just blocks from Kaskades Hotel South Beach, Lincoln Road Mall is South Florida's premier destination for shopping, dining and outdoor entertainment.
8. Take a Walk Down Memory Lane
Ocean Drive in Miami Beach is one of the most popular tourist destinations in the city. It's a beautiful place to walk, relax on the beach and enjoy the many stores, restaurants and hotels that line the Drive. There are also a number of historical landmarks and museums to visit. If you're looking for a fun and eventful day, a walk along Ocean Drive is just what you need!
This street is home to some of the most iconic architecture and landscapes in all of South Florida. From Art Deco buildings to world-class bars, there's something for everyone on Ocean Drive.
8. Jewish Museum of Florida
The Jewish Museum of Florida-FIU is the only place where you can see, feel and learn about Florida's rich Jewish history. The museum is located in two connected historic buildings that once served as Congregation Beth Jacob. As you enter the galleries, you'll be transported back to the Art Deco era when the museum was built. Through the exhibits on display, you can see and feel the beauty and vibrancy of that time.
9. New World Center
Nestled in the heart of South Beach, the New World Center is home to the famed New World Symphony. Each year, some of the world's most talented young musicians come to this prestigious academy to hone their skills and perfect their craft.
Adjacent to the concert hall is SoundScape Park, where locals and visitors can enjoy free outdoor concerts and movies throughout the season. Whether you're looking for an evening of sophisticated culture or just want to relax in the park with a picnic and good company, New World Center is a must-see.
9. Nikki Beach Club: A Touch of Glamor on the Beach
Nikki Beach is the ultimate playground for the rich and famous. With its pristine white sand beach, upscale restaurant and delicious cocktails, it's no wonder people come here to let loose and have a good time. The music is loud all day long and the dance floor is everywhere and always full of beautiful people shaking their stuff. If you're looking for a place to see and be seen, Nikki Beach is the place for you.
Find More Things to Do in South Beach
These are just ten things to do in South Beach. Whether you want your South Beach vacation to be on the water, art museums, or at night, you'll find something to enjoy in this city.Are you ready to go to Miami? Book your hotel dates with us today.